In my last post, I talked about how my newest and latest Dark Night of the Soul has been. (TLDR: Hell. It was hell.)
If you missed it, you can read it here.
I left you with a promise to tell you what I'm doing to rebuild my biz.
To sum up: A lot.
This is a little long.
First: a quick overview…
Hired help
Focus on teaching
Upgrade free resources
Recreating & relaunching the Psychic Mechanics Course
Moving community off of Facebook
Super fun events
Glitter Cat Club
1. Hired Wendy Williams as a Project Manager/Course Creation Expert/ADHD Brain Wrangler
Wendy is someone to whom I was introduced in 2020. When the George Floyd protests were happening and everyone on the internet was getting called out for racist behavior, she called me and a group of other admins of a Facebook group in to assist us in being held accountable for creating a space of harm for BIPOC and embodying the leadership we decided to step into.
She held us accountable with clarity, fierceness, and love. Then she helped us untangle our mess and assisted us in co-creating a space that fostered genuine safety. Her work and presence was instrumental in my healing during the uncertainty of my marriage, the subsequent failure, the pandemic, and everything else I mentioned in my previous email.
I knew she was a business savvy, wise, and caring leader in her own right, but when I realized she understood time (seriously, I don't get it – it makes no sense), course creation, learning theory, graphics design, project management, online marketing, energy work, counseling, and how to get me to follow through when I have a bad ADHD executive dysfunction day… well… I decided I was going to hire her the minute I could.
And that's exactly what I did. She's currently the Project Manager for the creation of a new course (we'll talk about that later) and she's been an incredible support in helping me troubleshoot problems, whether they're energetic, tech-related, or ADHD weirdness.
I could not have done what I've done the last few months without her.
2. Focus on Teaching
At my core, I'm a teacher. I'm a spiritual teacher in the sense that I'm someone who teaches things about spirituality. I do not come from a lineage where spiritual teachers are supposed to be revered – despite my title of "Reverend". There are plenty of sacred traditions that deserve honor and respect that have that structure – Hinduism with Gurus comes to mind – but that's not the type of teacher I have ever been or ever will be.
I'm fully human and have dedicated the entirety of my professional life to learning, implementing, and teaching the spiritual arts.
I do not belong on a pedestal. I guarantee that I will make mistakes. I have made many in my 11 years doing this work professionally, and if I have my way I'll be doing this work for another ~30. That is plenty of time for some truly epic failures.
But I also promise that I'm 100% committed to my work… to both deepening my understanding of the divine and living in such a way that I'm fully present as a soul squished inside a human body living a human life in a weird physical world that thought body odor was a good idea (I still want to speak to a manager about that.)
As part of my commitment to that, I'm discontinuing my reading and energy healing services for the time being. I have found that I need to use most of that energy to heal myself during this phase of life. I'm optimistic that I'll return in divine timing.
I'm more than healed enough to be back in business, but that healing energy is precious and I need to direct it at the places where my trauma still interrupts my daily life and goals.
3. Upgraded Free Resources
I've also created The Intuitive's Toolbox – which is the collection of my best public work since 2011 and a free resource for you. I have a total of 8 mini-courses and a few masterclasses about the Intuition, Empath life, and Pro Spiritual Practitioner trainings. All of my new stuff that is free for everyone to access will go into that toolbox. (The "How to Rest Like an Adult" training I did a few weeks ago is in there now, too).
Make sure you can view images to see a preview of the content.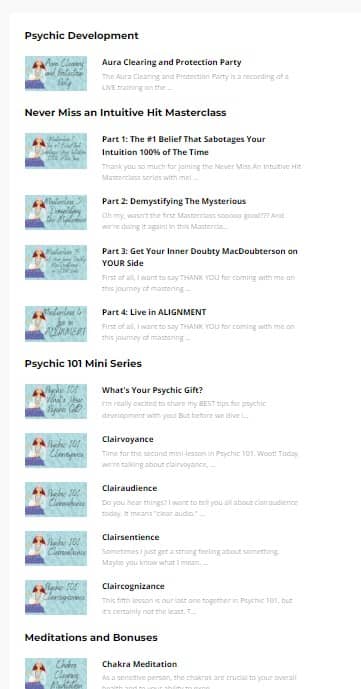 4. Recreating and Relaunching the Psychic Mechanics Course
I'm revamping the Psychic Mechanics Course. I've spent the last 3 years – while going through the breakdown/breakthrough hell – spending a considerable amount of time learning how to teach better. From learning styles, to finding good images, to how to break information down more easily, to how to create transformational content that's a joy for students to go through, gamification, and even frameworks… I've been quite a student of it the last few years. The Psychic Mechanics Course is getting a much-needed review.
The new version: The Intuition Mastery System – will be opening doors to previous PMC students in the next few weeks and then in mid-July, it will be open to anyone who feels the call to join.
If you're a previous student of either the Psychic Mechanics Course OR the Unleash Your Psychic Genius Course (made in 2013), you will get an invite to the free upgrade to the newest version as soon as it's live. I'll make an announcement through the course portal as soon as it's ready for you.
All students in any of my courses always get free lifetime access to the course and every future revision/upgrade I make.
5. Moving the Community off of Facebook
This is still a work in progress, but soon enough you'll be able to join the Spiritual Mechanic Community that is 100% off of Facebook. This is for about a million reasons, from the algorithm being consistently difficult to work with, to folks using it to spam members due to the ease of entry, to not wanting to support a company that doesn't take care to prevent harm, to simply having a community in an online space I have ownership of. The Facebook group has been fairly inactive the last few years, but the community I'm building with Wendy is going to be incredible.
High quality takes time, though. It's not ready today.
6. Super Fun Events
There are two events coming up that you may want to keep an eye out for. The first is a half-day free training on "EA's Theory of Everything" (haha)… which is literally the most Leo way to say "how the universe works and how to use your intuition on purpose" It will be on a Sunday at the end of June or early July. Details are coming. The replay will be in the Intuitive's Toolbox, but the event itself, you'll have to register for.
Then in mid-July, I'll host a 5-day training on how to use your intuition and never miss an intuitive hit again. You will, of course, miss an intuitive hit at some point in your life. Being human is like that (I know, it's super rude). But when you work the system to tune in and get clarity, it works.
This will also be our pre-launch fun fest before we open the doors to the Intuition Mastery System. If you've never gotten to participate in one of my pre-launch fun fests before, people tend to love them, so join in when those are open to register to get in on the fun.
7. Opened up the Glitter Cat Club for the Get Clients Course students
After launching the second round of the Get Clients Course in January/February, I realized I wanted a space dedicated to the students who'd been through the training and wanted more support/coworking sessions/conversations about the issues in the industry. I called it the "Glitter Cat Club" because in 2014 when I was still trying to figure out the basics of internet marketing, I put digital glitter on photos of my cats when I wanted to make an announcement. The internet loves cats, so it has worked out very well so far. It's symbolic of finding a spiritually aligned way to run a spiritual business while also eating every day and paying rent/mortgage/other bills on time.
We had our first session today and it was a blast.
—-
If you've read this far, thank you!!! That's some real commitment and I am deeply grateful that you chose to learn that much about me, what's coming up, and some of my deeper philosophies.
I'll be back in your email inbox sometime next week with more thoughts, updates, and perhaps an invite to one of my new things.
As always, be well. Feel free to reach out with your thoughts, concerns, or reflections.
xoxo
Rev. "EA" Kerti
PS – Got a specific Q about something I mentioned? Hit me up.