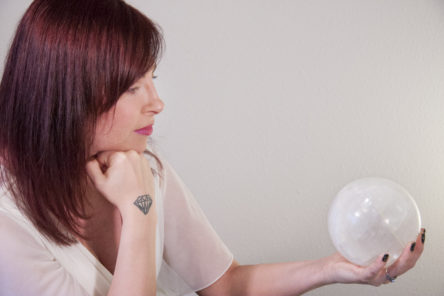 Are you feeling stuck and frustrated with some area of your life?
Armani is here to help!
Who's Armani?
Armani is the collective consciousness of some non-physical peeps who love vibration and the law of attraction.
These beings talk about alignment, especially as it relates to what you can do and shift to be in alignment with your desires.
They also love cursing, so if you're curse word sensitive, that's 100% cool, but you may not enjoy them very much.
In my first channeling session with them, I asked them who they were and what their purpose was.
I'll let them introduce themselves:
"We are the collective consciousnesses of multiple beings. We are in a different dimension, and the name is similar to the meaning of Armani."
I, of course, quickly looked up the meaning of "Armani."
According to Google, the name Armani means faith, desire and goal.
Here's what a few people said about their sessions with Armani.
---
Erin-Ashley is one of a kind and I absolutely loved my Armani reading.

I received clear answers and walked away with clarity over exactly what I needed to do to heal the things worrying me in a holistic way.

I would recommend Erin-Ashley to everyone seeking some soul-centered intuitive guidance that comes from a place filled with love.

Thank you so much Erin-Ashley for this wonderful gift and I look forward to working with you again in the future.
---
Armani has a way of touching on things that have never left my own private dialog. Calling me out on fears and other barriers that are keeping me from seeing the results I am striving for in both my business and personal life. Erin-Ashley and Armani are not just mirrors though, they are action oriented and permission giving.

Erin-Ashley's voice is powerful and reassuring at the same time and it is no surprise that Armani have chosen her to relay their messages. I enjoyed having access to the recording after the session as well. It allowed me to listen again shortly after the session without the internal chatter or anticipation that happens when you are in the middle of a reading. It allowed me to listen with a calm, open mind and truly receive the messages. I will be referring back to it whenever I need a reminder or refocusing.

If you sit down for a session with an open mind and open heart, I think it is pretty safe to say that you will walk away with both a kick in the pants and a lifted spirit… or whatever it is you need.
---
A thousand thank yous to you and Armani for my reading, I've been skipping around this morning blessing everything and really don't remember a time when I've felt so relaxed with the unfolding of my desires and their manifestation as I do in this moment.

I have heard the phrase 'all is well' so many times in my life but don't think I have ever felt it to be true until now. For that I don't know how to thank you…
---
Here's an example of a question Armani can help with:
"I feel really stuck, and I don't know what to do. I can't figure out career steps, and I definitely have a block around money. I need to know what to do next or what my block is and/or how to clear it so I can move forward in my life."
No matter what your desire, goal, or struggle is, Armani is here to help.
These readings with Armani are designed to:
Quickly find the origin of your perceived blocks so that you can remove them with ease
See whether your goals and intentions are aligned with your energy or if you're headed for disappointment-land
Assist you in aligning with your goals and desires in a way that is heart-centered and expansive
Get you immediate clarity on your path, alignment and appropriate actions
Experience feelings of gratitude and peace in your life.